So I went to the mall today. I normally HATE shopping but I had a bit of weight lifted off my shoulders and thought my wallet needed to be lightened a little. I did get a few things I actually needed. And then I got these: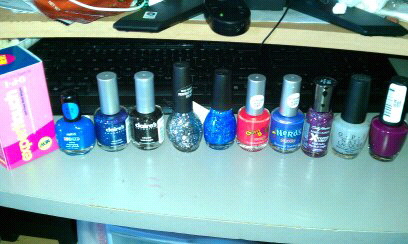 OPI lint free wipes
Clair's-
Flirty/Shy (mood polish!)
Nicole by OPI - Make You Smile from the Bieb's collection
Sinful Colors - Hottie
Hot Topic
Gummy Bears (orange) scented
Nerds (purple) scented
Sally Hansen Xtreme Wear - Rockstar Pink
OPI
I Juggle...Men
Houston We Have a Purple
The Clair's and Bieber were BOGO half. The 3 OPI items were 60% off! and the Sally and Sinfuls were under $2 each. I got a little caught up in my madness today!
And by the way, the Nerd's polish (I just put it on) does have a slight Nerdy scent to it ^.^